Whey Gold Standard ON (5 lbs)
---
Deskripsi
PROTEIN

24

G

BCAAs

5.5

G

GLUTAMINE & GLUTAMIC ACID

4

G
THE TRUE STRENGTH OF WHEY
Whey Protein Isolates (WPI) are the purest form of whey protein that currently exists. WPIs are costly to use, but rate among the best proteins that money can buy. That's why they're the first ingredient you read on the Gold Standard 100% Whey™ label. By using WPI as the primary ingredient along with premium ultra-filtered whey protein concentrate (WPC), we're able to pack 24 grams of protein into every serving to support your muscle building needs after training. ON's attention to detail also extends to mixability. This superior quality powder has been instantized to mix easily using a shaker cup or just a glass and spoon. There's no doubt that this is the standard by which all other whey proteins are measured.
Whey Protein Isolate (WPI) Main Ingredient
Whey Protein Microfractions from Whey Protein Isolates & Ultra-Filtered Whey Protein Concentrate
Over 4 Grams of Glutamine & Glutamic Acid in Each Serving
More Than 5 Grams of the Naturally Occurring Branched Chain Amino Acids (BCAAs) Leucine, Isoleucine, and Valine in Each Serving
The "Gold Standard" for Protein Quality
Who Uses Gold Standard 100% Whey?
Optimum Nutrition Quality
At ON we are proud to know that we are one of the few sports nutrition companies who own and operate their own production facilities. While it's true that ON is one of the world's largest producers of sports nutrition products, we remain focused on being recognized as the best. In fact, our requirements for raw materials are so strenuous that it's not unusual for ON Quality Assurance Technicians to reject entire truckloads of raw materials that do not meet our high standards. We like to think that we take as much pride & care in crafting our award-winning supplements as our consumers do with crafting their physiques and fitness accomplishments.
---
There is Only One Gold Standard
Optimum Nutrition's Award Winning supplements have consistently delivered the Highest Quality products to athletes across the globe -- Here is a brief look at how.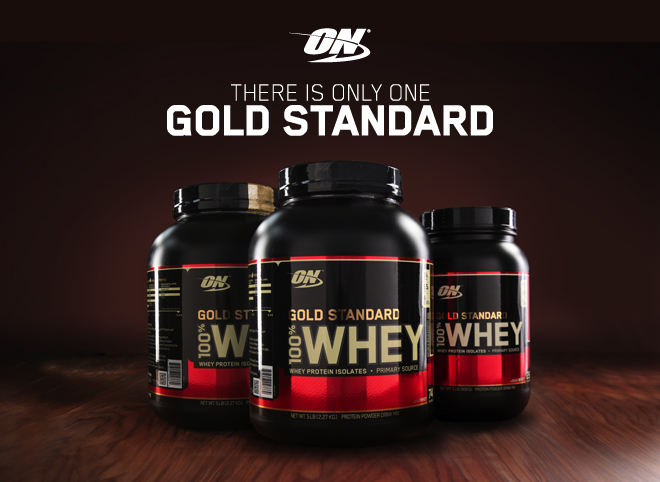 24 GRAMS

OF PROTEIN

5.5 GRAMS

OF BCAAs

4 GRAMS

OF GLUTAMINE & GLUTAMIC ACID
AWARD WINNING 2005-2014
Voted supplement of the year and protein of the year for 10 years and running. It's an example of our commitment to creating quality sports nutrition supplements.
THERE IS ONLY ONE GOLD STANDARD
BODYBUILDING.COM'S PROTEIN POWDER AND SUPPLEMENT OF THE YEAR 2005-2014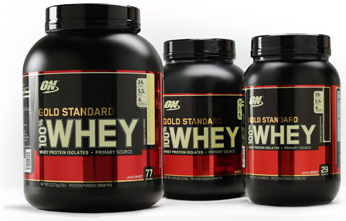 10 Consecutive Years of Award Winning Quality
World's Most Trusted Sports Nutrition Brand
Whey Protein Isolates: Primary Source
5.5 Grams of Naturally Occurring BCAAs
4 Grams of Naturally Occurring Glutamine and Glutamic Acid
Instantized to Mix Easily Using Just a Glass & Spoon
Over 20 Different Flavors to Choose From
OPTIMUM NUTRITION TRUE STRENGTH
True Strength is a journey. It never rests, it never quits. It's about overcoming obstacles, accomplishing goals, and recognizing achievements. And then it resets to achieve again. As your trusted sports nutrition partner in goal achievement, ON demonstrates that same passion while crafting our products. From the raw materials we source to our state-of-the-art manufacturing processes, no compromises are made. You set the bar higher after every workout, we set the bar higher to redefine the industry standards and ensure you realize optimum results.
QUALITY
Whey protein isolates are the purest form of whey and the main ingredient in Gold Standard 100% Whey™. Each serving provides 24 grams of rapidly digesting whey protein with low levels of fat, cholesterol, lactose and other stuff you can do without making Gold Standard 100% Whey™ the standard all other proteins are measured against.
CONSISTENCY
Optimum Nutrition has been spotting the efforts of goal driven individuals since 1986. As one of the few companies to own and operate state-of-the-art manufacturing facilities that are GMP compliant and NSF Certified for Sport, ON assures that every shake will mix up effortlessly because of its first-to-market instantization process. You also expect each shake to taste the same as the last and your next. That's the kind of consistency ON delivers.
HISTORY & HERITAGE
Optimum Nutrition is legendary for both quality and innovation. In addition to producing the world's best-selling whey protein, ON's Gold Standard 100% Casein™ introduced slow-digesting nighttime protein to the weight training world and Amino Energy created the anytime energy category in sports nutrition. When technology makes advancements possible, ON will be the company bringing it first to your shaker cup.
GOLD STANDARD AT A GLANCE
MORE THAN 20 UNIQUE FLAVORS* & COUNTING!
Your post workout shake doesn't need to be routine, mix it up by trying one of these great flavors.

*NATURAL AND ARTIFICIAL FLAVORS
NATURAL ALTERNATIVES
NO ARTIFICIAL FLAVORS, SWEETENERS OR COLORS
NATURALLY FLAVORED OPTIONS
Members Taking Optimum Nutrition Gold Standard 100% Whey